Benefits of Grass-Fed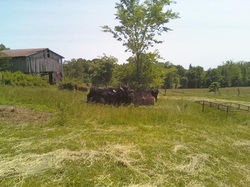 The bottom line is this: cattle are ruminants. Ruminants ruminate - simply, they chew their cud. Ruminants were created to eat, surprise, grass! They were not created to subsist on grain.
Over the past several years, certain agribusinesses have mounted a very successful campaign to convince the consumer (that's us) that grain-fed is better. Better tasting (not) and better for your health (WAY not). But we fell for it! And now it's nearly impossible to find anything but grain-fed beef in the grocery store.
So don't go to the grocery store! Head on over to
LocalHarvest
or
EatWild
to find out where to purchase locally grown grass-fed meat. (By the way, you won't find us listed on EatWild simply because they charge more than we can pay for advertising right now.)
Don't miss our Beef recipes section!

We really aren't experts, but below are some links to a few folks who are more eloquent than we are on the subject.
---